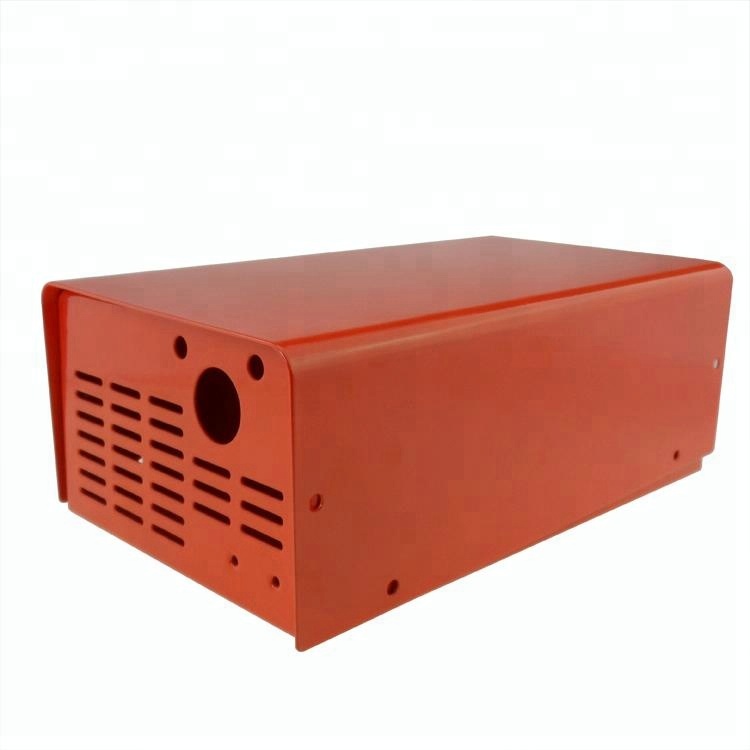 Whether for structuraal purposes, decorative elements, or functional components within other products, many different industries rely on sheet metal fabrication.
Let's take a closer look at its variety of common use cases.
Kiosks, vending machines & enclosures
Many customer-facing businesses, including gyms and recreation centers, generate a sizable amount of money through vending machines and kiosks. Because of this, care must be used when building them.
These kinds of machines demand the use of sheet metal fabrication since they require a lot of different separate components to be constructed.
Construction & Security
The construction and security sectors use the application of sheet metal fabrication for products such as security doors, guard rails, security grills and bespoke security enclosures.
Retail
Sheet metal fabrication is necessary for the retail industry to produce visually appealing inventory and product displays.
For a variety of retail clients, retail locations, and shop displays, sheet metal fabrication may be used to produce a wide range of retail display units. For instance, point-of-sale stands, portable displays, retail display cubes, and bar displays. These goods must be both very practical and attractive.
Science, medical & food
Particularly the scientific, medical, and culinary sectors use sheet metal fabrication to provide workbench surfaces, storage units, and sinks that are common in commercial and industrial kitchens.
In the manufacturing and preparation of food, stainless steel is frequently the material of choice.
Transportation
Thousands of various goods manufactured using metal fabrication are used in the transportation industry. For the creation of components like glove-box enclosures, side steps, door-handle mounts, and steel surrounds for tail-lift doors, emergency vehicles, for instance, rely on sheet metal fabrication.
Sheet metal fabrication is a great way to make both big and tiny pieces that may be used in the building of vehicles. Additionally, sheet metal fabrication is used to create stair-safe goods, ladder hatch trap doors, and safety railings on construction sites.
Benefits of Manufacturing Metal
There are various advantages to sheet metal manufacturing, but the three primary advantages are:
Strong & Durable:
When looked after well, metal fabrications can last many years without needing to be replaced, making them great for projects that require long-term durability.
Versatile:
It can be used for a wide range of different-sized projects, making them a valuable asset for many businesses as well as for individuals.
Easily maintained:
Metal fabrications are not susceptible to rust or corrosion and are resistant to fire and heat, making the process great for industrial and commercial settings.
The Go-To Choice for Sheet Metal FabricationAt present
Our company has professional middle and senior technical personnel, the core technical departments are: engineering research and development, mold making,stamping and deep drawn cnc mahcining,die casting, laser cutting, welding, polishing, etc. our core equipment are: 16-315t puncher, 100-2000t hydraulic press, 3000w laser cutter, CNC bending , polishing , automatic welding , argon arc welding ,automatic riveting , automatic lathe, die casting, milling machine, grinding, wire cutting, and other equipment. With more than ten years of professional production experience, it has established a set of advanced production process and a complete quality assurance system; the company has successfully passed the ISO 9001-2018 quality management system certification. At the same time, the company also strives to fulfill its social responsibilities and has obtained ISO 14001 certificates.